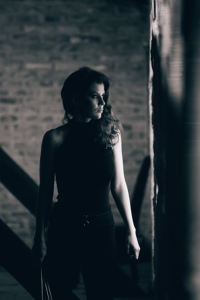 Aleksandra Šuklar is a multi-percussionist and marimba artist based in Vienna. Her musical spectrum expands from classical music, contemporary works for percussion until film music and crossover projects.
She finished her Bachelor and Master of Arts degrees with Prof. Nebojša Jovan Živković at MUK – The Music and Arts University of the City of Vienna in 2016.
As a prizewinner of numerous national and international competitions across Europe she received as well an Award of Austrian Chancellor in 2016 as one of the most outstanding young artists living in Vienna.
Her solo performances can be seen in concert halls such as Viennese Musikverein, ORF Radiokulturhaus Wien, Deutsches Theater Berlin etc.
Šuklar has collaborated with various ensembles and orchestras including the Symphony orchestra of Vienna State Opera, RSO Symphony Orchestra, Slovenian Philharmonic Orchestra, RTV-Slovenia Symphony Orchestra, Ensemble Kontrapunkte, etc.
Since 2018 she has been collaborating with Hollywood film music composer Hans Zimmer  as a band soloist in "World of Hans Zimmer" and "Hans Zimmer Live" and has been touring and performing in Arenas worldwide (Melbourne, Hong Kong, Sydney, Seoul, Berlin, London, Madrid…).
Aleksandra Šuklar is Artist at Meinl Percussion , Meinl Cymbals, Pearl Drums and Schlagkraft Mallets.