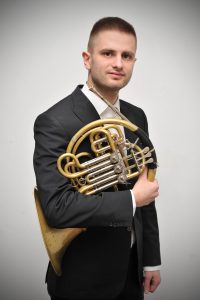 Blaž OGRIČ started playing the french horn at a young age in the music school at his hometown Idrija, with prof. Neža Gruden. Later on he continued his studies at the Conservatory of Music in Ljubljana with prof. Primož Zemljak.
Since 2015 he was a student at the Academy of Music in Ljubljana with the professor Boštjan Lipovšek, where he finished his master degree in 2021. In 2007 he had his first international breakthrough, when he competed at the Beograd international chamber and soloist competition and won first prize. Since then he has had many successful appearances at several other competitions like: TEMSIG 2011 (slovenian national comp.) – absolute first prize, TEMSIG 2013 – absolute first prize with a horn quartet, Varaždin international competition – absolute first prize in the highest category, TEMSIG 2015 – absolute first prize.
Blaž has also studied and worked with many great and aspiring teachers like: Radovan Vlatkovič, Johannes Hinterholzer, Luiz Carlos Garcia, Dale Clevenger, Will Sanders and many others. He has also worked with many world renowned conductors like: Neville Marriner, Phillippe Jordan, Daniel Harding, Christoph Eschenbach, to name a few. In the year 2013 he had his solo debut with the symphony orchestra of the Conservatory of Ljubljana and has since then continued to appear as a soloist at many given occasions like recitals and performing newly composed music.
From the young age of 15 he started to regularly cooperate with most of the professional Slovene orchestras and has gained a massive amount of experience since then. In the year of 2016 he won his first professional audition in the Ljubljana Opera house (SNG Opera in Balet Ljubljana) as the first horn. Not long after that he won another audition in the Slovene Radio Orchestra (RTV Ljubljana). In December 2018, he has won yet another audition as the first horn of the Slovenian Philharmonic Orchestra (Slovenska FIlharmonija). Last but not least he has been a member of the Gustav Mahler Jugendorchester for four consecutive years where he mostly played first horn.