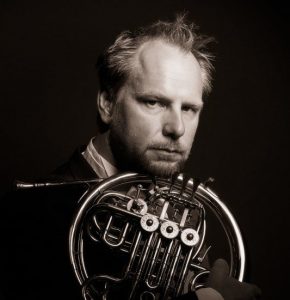 Boštjan LIPOVŠEK comes from a musical family with a long tradition of horn players. His first mentors were his father and brother, followed by Prof. Jože Falout at the Music Academy in Ljubljana. Boštjan Lipovšek studied with Prof. Falout in his graduate and post-graduate studies. Later he went to the Salzburg Mozarteum for advanced studies with Radovan Vlatković. During his study in Ljubljana he received the Student Prešeren Award for his interpretation of Strauss Concerto No. 1 for horn and orchestra with the RTV Slovenia Symphony Orchestra.
As a soloist, he played with the Slovene Philharmonic Orchestra, Maribor Philharmonics, Dubrovnik Symphony Orchestra, Philharmonic Orchestra from Udine, Chamber Orchestra Padova e Veneto and Jeunesses musicales Orchestra. He performed great conductors, such as Anton Nanut, Uroš Lajovic, Marko Letonja, David de Villiers, S. Pelegrino Amato, Gary Brain, Amy Anderson, Yakov Kreizberg, Sian Edwards.
Lipovšek played as guest soloist with the national orchestra of La monnaie Opera house in Brussels and with the Berlin Symphony Orchestra and continued his collaboration with the Mahler Chamber Orchestra. He became assistant university teacher in 1999 and senior university teacher in 2004 at the Music Academy in Ljubljana. From 2005 he has worked as senior university teacher at the Music Academy in Zagreb. In 2008, Boštjan received the highest and most prestigious national Slovenian award for great achievement in art – the Award of the Prešeren Fund.