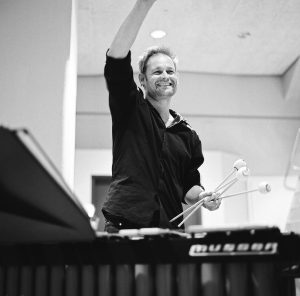 Friedrich PHILIPP- PESENDORFER, alias Flip Philipp was born in 1969 in Austria. He studied at the Music University of Graz (Austria) and at the Franz Schubert Konservatorium. Further on he visited masterclasses at Berklee Summercollege of Music in Perugia (Italy). In 1990 he became Principal Percussionist of the Vienna Symphony Orchestra. Since 1998 he is also member of the Vienna Art Orchestra (Matthias Ruegg).
Flip Phillip is also active as Jazz vibraphone Teacher at Jam Music LAB Wien. Recently he held masterclasses at the Koninklijk Conservatorium Antwerpen and at Tokushima Bunri University of Music.
Besides teaching and playing in orchestra, Flip worked and played with Natalie Cole, Joe Zawinul, Lalo Schifrin, Diana Ross, Placido Domingo, José Carreras, Luciano Pavarotti, Diane Warwick, Michael Mantler Wayne Horvitz, Kruder& Dorfmeister, Ferhan & Ferzan Önder (Turkey), Vienna Art Orchestra (A), Sinshi Tanimura (Japan), Fujiko Hemming (Japan), Quruli (Japan), Ensemble des 20. Jahrhunderts (A), Ensemble Die Reihe (A), Klangforum (A), Radio Symphony Orchestra Vienna, Mahler Chamber Orchestra, Super World Orchestra, Orchester Bayerischen Rundfunk (Germany).
In his career he recorded many CD –Recordings, including Flip Philipp & Renato Chicco: Face to Face (2014), Flip Philipp & Oliver Kent: Place & Time (2013), Flip Philipp – Cult (2007), Flip Philipp / Ed Partyka Dectet: Opium (2006), Flip Philipp / Ed Partyka Octet: Offtime (2010).