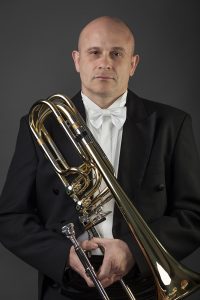 Igor RANKOVIĆ graduated and obtained masters diploma at Faculty of Music in Belgrade in class of profesor Vinko Valečić.
From 2000 to 2002, while in New York, he also collaborated and studied with great trombone masters such as David Finlayson (New York Philharmonic), Per Brevig (Julliard) and Ian Bousfield (LSO).
Igor Ranković became a member of Belgrade Philharmonic trombone section in 1996. Since 2015 he is solo bass trombonist. On numerous ocassions he also collaborated with RTS symphony orchestra, Madlenianum Opera, Makris orchestra, SNP Opera in Novi Sad as well as Bolshoi Festival orchestra.
While being orchestral musician, he also distinguished himself as chamber music musician, performing with numerous ensembles including BF trombone quartet, Brass 4 and Belgrade Philharmonic chamber ensemble.
During his tenure with Belgrade Philharmonic, Igor had opportunity to play in major concert halls worldwide, such as Carnegie Hall, Chicago Symphony Hall, Severance Hall Cleveland, Moscow Tchaikowsky Hall, Beijing, Stockholm, etc. He played with numerous great conductors including Zubin Mehta, Kiril Petrenko, Asher Fish, Sir Neville Marriner, Gabriel Feltz etc.
While being part of Belgrade Philharmonic program called Filhademia, Igor tutored many young trombonists from region in art of playing trombone in profesional orchestra.