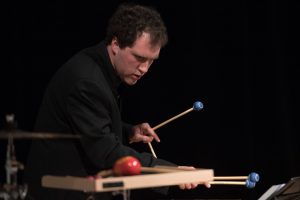 Jože Bogolin was born in Brežice, Slovenia. His first steps in music began at Krško music school, later he studied at Music high school Ljubljana, Music Academy Ljubljana and finished with Master Degree at Hochschule fűr Theater und Musik Munchen in the class of dr. prof. Peter Sadlo. During studies he achieved many different solo and chamber awards and compliments: TEMSIG – First Prizes and Special Prizes (2001, 2005, 2008), Povolleto, Italy – Second prize (2005), IPCL, Luxemburg – Second prize and Audience prize (2009), PENDIM, Bolgaria – First Prize (2009), Almere chamber music festival – Audience Prize (2011), Salieri-Zinetti competition – Third Prize and First Prize (2011, 2012).
He was playing and studying with many known musicians, such as Peter Sadlo, Keiko Abe, Momoko Kamiya, N.J.Živković, J.Beck, Peter Erskin, Bogdan Bacanu, Katarzyna Mycka, Mate Bekavac, Vladimir Askhenazy, Marko Hatlak… Bogolin is also active as soloist and orchestra player. In his career he played with Australian Chamber, EUYO Orchestra, EUYO Wind Ensemble, RTV Slovenia Symphonic Orchestra, Filharmonia Salzburg, SNG Ljubjana and more.
Nowadays he is playing mainly as a chamber musician with DRUMARTICA – Slovenian percussion. Together with Simon Klavžar, Bogolin has performed in many important classical music venues in Serbia, Italy, Germany, Luxemburg, Russia, USA, China, Croatia, Spain, Canary Islands, Slovenia, Netherlands, Belgium and so on.
Currently, he works as professor on Konservatorij za glasbo in balet Ljubljana. In addition to his job, he is regular guest on modern music festivals, masterclasses and clinics home and abroad.
He is an endorser for ADAMS Musical instruments and Innovative Percussion Mallets.