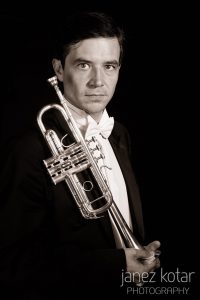 Jure GRADIŠNIK began his career in 2003 with a solo trumpet position in National Theatre of Opera and Ballet in Ljubljana, Slovenia. He went on to join Radio Symphony Orchestra as Principal Trumpet in 2010. In 2011 he was awarded the position of Trumpet Professor at the Ljubljana Academy of Music. He released ˝Rustiques˝, his first album in 2015 with his wife, harpist Maria Gamboz.
Jure is an active soloist and has appeared with many groups, including Symphony Orchestra of RTV Slovenia, Chamber Orchestra of the Slovene Philharmonic Orchestra, Filharmonie Oltenia from Romania, Chamber Orchestra of the Maribor Festival, SNG Opera and Ballet Ljubljana Orchestra, Slovak Chamber Orchestra- Cappella Istropolitana, Chamber Orchestra Philharmonia Oltenia, Orchestra Croatian Army and the Slovenian Philharmonic Orchestra.
As an orchestral musician he has performed with ensembles such as Australian Chamber, Slovenian Philharmonic, MittelEurope Orchestra, No Borders Orchestra and as chamber musician he is regulary playing with multiple chamber groups including SiBrass Quintet, Trio Seraphim and duo with harp.
Jure Gradišnik graduated from the Academy of Music in Ljubljana. Early in his career Jure won many European trumpet competitions, including the EU Yamaha Music Scholarship in 2003. In 2008 Jure was accepted at the prestigious Mozarteum in Salzburg, where he continued his studies with Professor Hans Gansch. In 2005 Jure received the Prešeren Prize for his performance of the Tomasi Trumpet Concerto with the Slovenian Philharmonic Orchestra. Jure has performed with many internationally renouned musicians including R.Tognetti, R.Galliano, S.Mead, R.Friedrich, S.Arnold,..
In addition to performing classical repertoire, Jure enjoys playing contemporary music. From 2009-2011 Jure was a member of band for Balkan pop star Magnifico, who performs at the largest Slovenian music venues and regulary tours across the Europe.