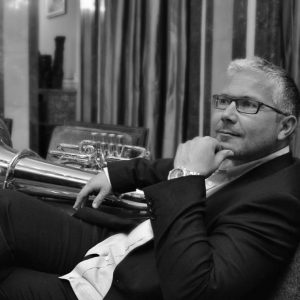 Krunoslav Babić (1976) graduated and obtained a Masters in the class of Professor Manfred Hoppert at the Graduate School of Music in Munich, Germany. He collaborated and studied alongside world's best tuba experts such as Mel Culbertson, Roger Bobo, Daniel Perantoni, Jozsef Bazsinka, Walter Hilgers, Roland Szentpali.
During his stay in Munich, he was fortunate enough to, on several occasions, collaborate with the renowned Bavarian Radio Symphony Orchestra under the direction of one of the world's top conductors Mo. Lorin Maazel. Up until now he was a member of the Croatian Army Orchestra, Symphony Orchestra of Croatian Radiotelevision (SOHRT), Slovenian Philharmonic and currently the Zagreb Philharmonic Orchestra.
In his previous work he has distinguished himself as an orchestral musician, but also in solo and chamber performances. As a soloist, he has performed with most of the eminent ensembles in Croatia (Zagreb Philharmonic Orchestra, SOHRT, Zagreb Soloists, Zagreb Quarter, Zadar Chamber Orchestra, Croatian Army Orchestra).
Krunoslav Babić is the founder and director of the tuba XL quarter, the first one of its kind in the region with which he performed for over ten years making a number of notable appearances domestically and internationally, as well as winning several international awards.
For more than ten years, he was a member of the Croatian brass quintet and today he is a member of the internationally successful and admired quintet, the Balkan Brass Connection.
Up until now he has recorded several CDs (one in duet with a flute, which received a first world premier as well as three albums with the Quartet XL and one album with BC BRASS).
At his initiative new works by Croatian and foreign composers are being created for the tuba and he is also released a CD of works created by Croatian music composers.
He regularly participates in Croatian and international judging panels, holds master workshops and is actively involved in the workings of the International Tuba Euphonium Association (ITEA) whose conferences he regularly attends. He has been a visiting professor at the Faculty of Music Studies in Belgrade, Serbia for more then ten years.
From the very beginning of his work with the tuba, he has made significant effort to break down prejudices regarding the tuba being an orchestral instrument only, and to position it equally amongst other instruments.