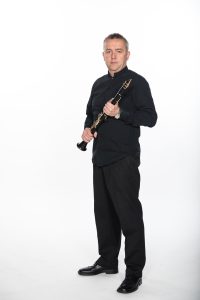 Clarinettist and pedagogue Jože Kotar lives and works in Ljubljana, where for 12 years he served as principal clarinet of the Slovenian Philharmonic Orchestra. Currently he holds the same position with the RTV Slovenia Symphony Orchestra. He is tenured professor of clarinet at the Academy of Music and also teaches at the Conservatory for Music and Ballet, both in the Slovenian capital.
He regularly performs in Slovenia and throughout Europe, the United States and South America as a soloist, chamber musician and a member of various ensembles. He has led master classes for clarinet and chamber music in Croatia, Serbia, Italy, Hungary, Belgium, Israel, Ireland, Canada, USA, Australia and Brazil, is frequently a member of juries at international competitions and is a regular guest at Slovenian and foreign festivals. He has performed and recorded as a soloist with many orchestras, led by conductors such as Marko Letonja, George Pehlivanian, Roger Boutry, Tetsui Honna, David Itkin, Benoît Fromanger, David de Villiers and others.
He has given the world premieres, both as a soloist and as a member of numerous chamber ensembles, of more than 190 works by many composers both Slovenian and foreign. As principal clarinet he performed with many famous conductors, such as Carlos Kleiber, Ricardo Mutti, Serge Baudo, Yurij Simonov, Hartmut Haenchen, Milan Horvat, Pavel Kogan, Zoltan Kocsis, Leopold Hager, En Shao…
He is a member, co-founder and artistic director of the Slovenian Clarinet Orchestra and the Slovenian Clarinet Sextet, and is also a member many other ensembles including the Ariart Woodwind Quintet (with whom he received the Bettetova Prize in 2007), the Woodwind Trio of the Slovenian Philharmonic and the contemporary music ensemble MD7, with whom he received the first Lipovšek Prize in 2013. Since 2007 he has been the conductor and artistic director of the Trbovlje Workers Wind Orchestra.
He has recorded numerous compact discs, including eight solo albums (with the Slovenian Philharmonic String Quartet, harpist Nicoletta Sanzin Fabri, the Slovenian Philharmonic Orchestra and the RTV Slovenia Symphony Orchestra and four with pianist Luca Ferrini) and many discs with ensembles, including the Ariart Wind Quintet, the ensemble MD7, the Slovenian Clarinet Quartet, the Slovenian Clarinet Sextet and the Slovenian Philharmonic Wind Trio. He has twice recorded the Rossini Introduzione, tema e variazioni, first with the Slovenian Police Orchestra and another with the Trbovlje Workers Wind Orchestra in a live concert in the Netherlands.